---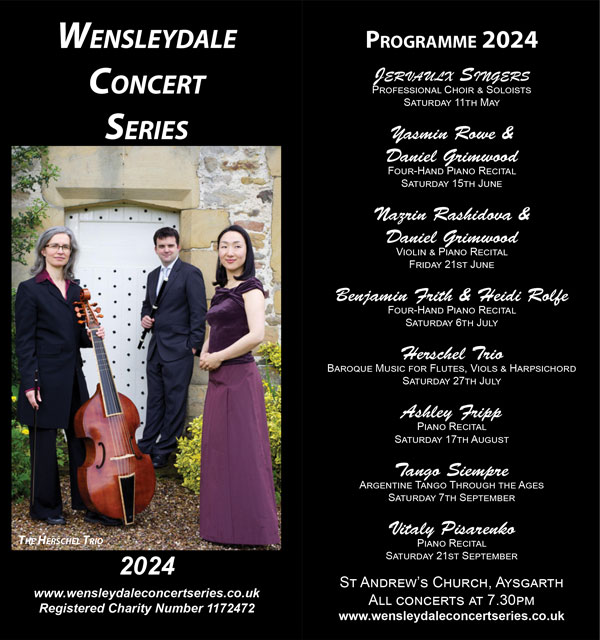 Our new 2024 printed brochure is now available and tickets are on sale - just in time to make great Christmas presents.
---
IMPORTANT NOTICE
A 4-hand piano recital by Yasmin Rowe and Daniel Grimwood on Sat June 15th 2024 is a late edition to our programme and is NOT included in the original £85 season ticket. An alternative season ticket has been added to the ticket website if you want to include this concert for £97. If you have bought the £85 season ticket and wish to upgrade to include this concert please send a message via the contact page.
---
Full details of all eight of our 2024 series concerts and tickets are now available on the concerts and tickets pages.
Our 2024 booking and GiftAid form is now available here for booking by post or registering donations for GiftAid.
Note if you book tickets online you can add a GiftAid donation during checkout.
If you are booking tickets and would like a printed programme please order them with the tickets. Only a few will be on sale at the door to reduce wastage of surplus copies.
---
If you are looking for fantastic concerts in the area over the autumn/winter/spring months see below.
Carol Haynes
---
Please sign up for our newsletter for updates and to be informed of any changes in dates, programmes, cancellations (hopefully not) as the year progresses.
Can you help us?
As a registered charity we are very aware that ticket sales rarely cover the cost of artist fees, their travelling expenses, venue hire, piano tuning and printed materials. We have been relying on generous donations from a small number of individuals and smaller donations from some of our regulars to make ends meet. If you would like to help, either by making a donation (any donation, however small or large, is welcome), sponsoring a concert or in other ways please see our "Donate" page.
---
Local music over the winter months
North Yorkshire Music & Arts Events Diary
Hosted by St Cecilia's, the North Yorkshire Music & Arts Event Diary covers events by more than 100 organisations: click here.