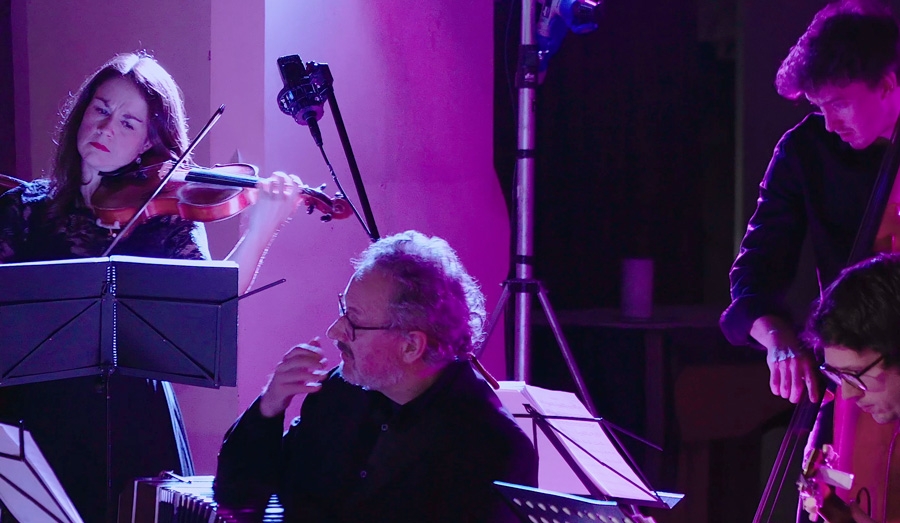 Saturday, 7th September 2024
19:30
St. Andrew's Church, Aysgarth
Programme: TBC
"Here is the tango, raw, intoxicating, speaking with its true voice." – Financial Times

"A brilliant fusion of classical, tango, jazz and roots" – The Guardian
About the music
Tango music and dance is a unique cultural product of Argentina that evolved out of the cuban Habanera in the latter half of the nineteenth century. It developed in distinct phases including the guardia vieja (old guard period) up to about 1915, the Golden Age of the 1930s and 40s, the Nuevo Tango style created by Astor Piazzolla in the late 1950s and the contemporary scene.
Tango Argentino has to some extent been a victim of its own success: its early penetration of international popular culture can be seen, for instance, in the antics of Charlie Chaplin and Roscoe "Fatty" Arbuckle captured by Mack Sennett in the 1914 comedy Tango Tangles. As a result, tango found itself imitated from Tunisia to Finland in music and dance that rarely reproduced the originality and flare, or even the basic musical structure, of the Argentinian tradition.
Tango music contains a number of distinct forms including the tango itself - a four-time dance; the vals or waltz; and the milonga, which is a bouncier two-time form that harks back to the guardia vieja. Astor Piazzolla contributed innovations including a slow milonga influenced by the folk music tradition.
Argentinian tango is unique as a latin dance music in having no percussion. It was performed by flutes, violins and guitars during the guardia vieja. The extended German concertina called bandoneon was imported en masse from about 1911, and became an obligatory part of the tango orchestra or orquesta típica tango from the 1920s, together with violins, piano and double bass. Orchestras competed with each other to create the most exciting, moving or surprising arrangements of standard tunes.
As well as the music of Piazzolla and our own compositions, we perform repertoire from the great tango orchestras of the golden age including those of Osvaldo Pugliese and Aníbal Troilo. Troilo is an essential figure in the development of the modern tango, as the mentor of Astor Piazzolla who joined his orchestra in 1939.
Tango Siempre
Tango Siempre have toured the UK and Europe since 1998 with projects ranging from traditional tango dance shows to collaborations with orchestras, contemporary dance companies and jazz musicians. They are unique in having three composer/arrangers within the band. Their repertoire consists exclusively of original compositions and of music that they have transcribed and arranged from historical recordings of the great Argentinian orchestras and of Astor Piazzolla's Nuevo Tango ensembles.
Tango Siempre albums:
'Nocturno' (2002, ARCM1807)
'Tangled' (2004, ARCM1960)
'Tangents' (2007, GMC024) featuring Steve Arguelles and Gilad Atzmon
'Only Human', (2008, Galileo-MC)
"Malandras del Tango" with special guests Victor Villena and Guillermo Rozenthuler.
The musicians
Emma Blanco (violin) studied at the Royal College of Music with Yossi Zivoni and Rodney Friend. She has recorded and performed live with many prolific artists including Tito Jackson, Beverley Knight, Sister Sledge, Will Young, Muse, McFly, Katie Melua, Olly Murs, Imogen Heap, Jools Holland, Peter Gabriel, Pete Tong and Jimmy Somerville, as well as appearing regularly in West End and National Theatre productions including West Side Story, Sinatra, Funny Girl, Follies, Pinocchio and Cinderella.
Emma was leader of the Young Musicians' Symphony Orchestra and the London Soloists Chamber Orchestra. She has been leader of Docklands Sinfonia since 2013. Since 2008 she has collaborated with Cuban virtuoso guitarist, Ahmed Dickinson Cardenas. They released two albums together (Havana Suite and Latin Perspective) to critical acclaim, and in 2015 Docklands Sinfonia commissioned a double Concerto for the duo from Cuban composer Eduardo Martin.
Jonathan Taylor (piano) works primarily in the fields of jazz and tango music. Jazz and funk musicians he has worked with include Pee Wee Ellis, Fred Wesley, Iain Ballamy, Eddie Parker, Andy Sheppard and Gilad Atzmon. He studied composition at Middlesex University and has written music for large and small ensembles, contemporary dance and music education projects. He currently teaches jazz at the Guildhall School in London and is a music examiner for ABRSM. Jonathan co-created the West End show 'Midnight Tango' featuring dancers Vincent and Flavia and was musical director of their show 'Tango Moderno' in 2017. He also has a folk band called Counter's Creek and plays various types of Irish whistles when he is not practising scales and arpeggios on the piano.
Bandoneonist and composer Julian Rowlands has appeared on TV and Radio including BBC Strictly, The One Show, Zingzillas, ITV's Surprise Surprise, BBC Radio 4 Front Row, and Radio 3 Sound of Dance and In Tune. His solo performances of his own music in the play Flying into Daylight won the accolade "Tango Nirvana" from the Guardian.
Ensembles and artists with whom he has worked have included Erwin Schrott, Fatma Said, the soloists of the LPO, The Orchestra of the Royal Opera House, the Philharmonia Orchestra, The City of London Sinfonia, Chineke, the RTE Concert Orchestra and the NSO. Julian's compositions and arrangements are published by Schott Music.
Tom Mason (bass) gained a jazz degree while at the Royal Academy of Music, and at New England Conservatory in Boston. Since then he has earned a reputation as one of the most versatile double bassists and bass guitarists on the UK music scene. His résumé of recordings, performances and tours includes artists such as Questlove, Lizz Wright, Mark Ronson, Anoushka Shankar, Jamie Cullum, Ghostpoet, Daymé Arocena, Lily Allen, Angelique Kidjo, Janette Mason Trio, Iggy Azalea, Cecilia Stalin, Gwilym Simcock, Jonathan Jeremiah, Goldie and The Heritage Orchestra and Archivist, and Tom has also been long-term member of award winning pianist Robert Mitchell's Panacea.
List of Dates (Page event details)
Saturday, 7th September 2024

19:30
Further Information
Venue: All of our concerts are at St. Andrew's Church, Aysgarth at 7.30pm.
Parking: There is very limited parking at the church for people with mobility issues - please let us know if you need to use this. Everyone else should park at the adjacent pay and display car park - the evening rate is £1.50 - please bring the correct change.
Dogs: A number of people have asked if dogs can be brought to concerts. To save confusion we have decided that only registered assistance dogs will be allowed.
Help to access concerts/help with transport:
Would you love to come to concerts but need help with transport or mobility issues?
We have funding from the 2020 Coop Community Fund aimed at providing transport from different parts of Wensleydale using taxis and minibuses, and if there is sufficient demand a general bus service to and from concerts. If you need help please contact us and we will see what we can do to help. If you need somebody to bring you to a concert we can help by providing a free 'carer' ticket - this is aimed at people who would not otherwise buy a ticket. To discuss your particular needs please call Carol or Liz on 01969 663026.