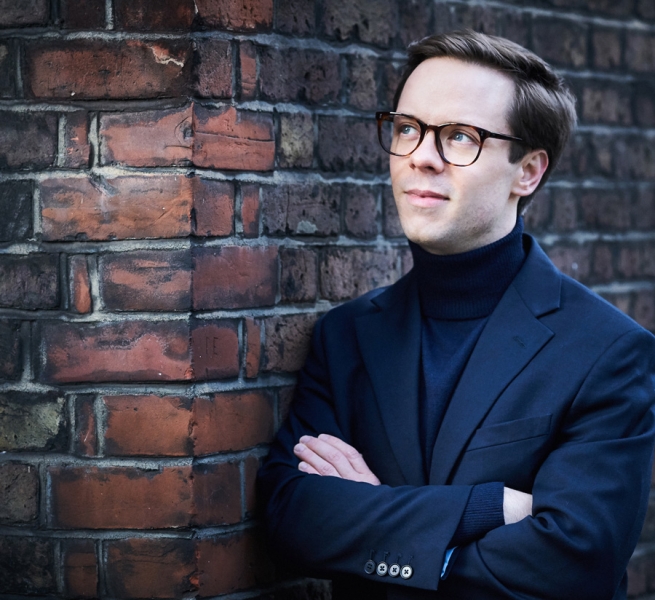 Saturday, 17th August 2024
19:30
St. Andrew's Church, Aysgarth
Programme:
Franz Schubert (arr. Liszt) - Schwanengesang, S. 560:
No. 7 Ständchen
No. 10 Liebestbotschaft
No. 3 Aufenthalt
No. 2 Das Fischermädchen
No. 11 Der Atlas
Ludwig van Beethoven - Sonata No. 30 in E major, Op. 109
*** Interval ***
J. S. Bach - The Well-Tempered Clavier (Book 1)
Prelude and Fugue in C major
Prelude and Fugue in B-flat minor
Prelude and Fugue in E-flat major
Prelude and Fugue in C minor
Ludwig van Beethoven - Sonata No. 31 in A-flat major, Op. 110
Ashley Fripp
"Ashley Fripp is a genuine virtuoso, an astoundingly brilliant and masterly pianist, and his total grasp of the music is a joy to hear", Thomas Adès, composer, pianist and conductor
British pianist Ashley Fripp has performed extensively as recitalist, concerto soloist and chamber musician throughout Europe, Asia, North America, Africa and Australia in many of the world's most prestigious concert halls. Highlights include the Carnegie Hall (New York), Musikverein (Vienna), Concertgebouw (Amsterdam), the Philharmonie halls of Cologne, Paris, Luxembourg and Warsaw, the Bozar (Brussels), the Royal Festival, Barbican and Wigmore Halls (London), the Megaron (Athens), and the Konserthuset (Stockholm).
He has won prizes at more than a dozen national and international competitions, including at the Hamamatsu (Japan), Birmingham, and Leeds International Piano Competitions, the Royal Over-Seas League Competition, the Concours Européen de Piano (France), and the coveted Gold Medal from the Guildhall School of Music & Drama. Ashley won the Worshipful Company of Musicians' highest award, The Prince's Prize, and was chosen as a 'Rising Star' by the European Concert Hall Organisation (ECHO). He has performed in the Chipping Campden, Edinburgh, Brighton, Bath, Buxton, City of London, and St. Magnus International Festivals as well as the Oxford International Piano Festival, the Festival Pontino di Musica (Italy), the Mecklenburg-Vorpommern Festspiele (Germany) and the Powsin International Piano Festival (Poland). Ashley has also given an open-air Chopin recital beside the world-famous Chopin monument in Warsaw's Royal Łazienki Park to an audience of 2,500 people.
A frequent guest on broadcasting networks, Ashley has appeared on BBC television and radio, Euroclassical, Eurovision TV and the national radio stations of Hungary, Spain, Luxembourg, the Netherlands, Poland, Belgium and Portugal. Commercial recordings include Chopin Piano Concertos Nos. 1 & 2 with the Kammerorchester der Universität Regensburg (Spektral Records, 2013), an album of solo repertoire by J. S. Bach, Thomas Adès and Chopin (Willowhayne Records, 2018), and 'The Saxophone Craze: Homage to Rudy Wiedoeft' with saxophonist Jonathan Radford (Champs Hill Records, 2022).
Ashley Fripp studied with Eliso Virsaladze at the Scuola di Musica di Fiesole (Italy) and at the Guildhall School of Music & Drama with Ronan O'Hora. In 2021, he was awarded a doctorate for his research into the music of British composer Thomas Adès.
Reviews:
"…played with virtuosity, nobility and the right dash of glamour", The Guardian

"Disarmingly precocious", New York Times

"In this recital, Fripp includes the first recording since the composer's own of Concert Paraphrase on Powder Her Face, Adès's explosive precis of his 1995 opera. Fripp captures all its insouciance, darkness and extravagance.", The Observer

"Crisply performed… the virtuoso figuration is searching as well as irresistibly zestful", Sunday Times

"The young pianist's Bach sparkles with finely-wrought phrasing and articulation while the Adès paraphrase in an exciting revelation. His Chopin breathes and dances", BBC Music Magazine

"Thomas Adès's madcap concert paraphrase based on his controversial first opera Powder Her Face inspires Fripp no end. He plays up the second section's sudden mood swings with vivid character and a wide palette of articulations. What is more, Fripp easily dispatches anything that Adès throws at him", Gramophone Magazine

"Ashley Fripp's eclectic recital disc starts as it goes on… a winning blend of muscularity and elegance… incredibly persuasive", The Arts Desk

"...This was an amazing reading, gripping, sensuous and full of colour and flavour. Listen out for Fripp in the future; I certainly will", Musical Opinion

"Ashley Fripp is a pianist of formidable intelligence. Add to that a fearless, loose-limbed technique and a prodigious memory...and you have a young talent which needs to be taken very seriously indeed", Birmingham Post

"Sometimes breathtakingly fast, sometimes as slowly as a narrator telling his story in the moment, sometimes folksy and temperamental, sometimes lyrical, yet always with picturesque phrasing, he brought the pieces to life with exquisite class.", Rheinische Post

"A master of restraint... he allowed Chopin's arabesques to effervesce weightlessly", Mittelbayerische Zeitung
List of Dates (Page event details)
Saturday, 17th August 2024

19:30
Further Information
Venue: All of our concerts are at St. Andrew's Church, Aysgarth at 7.30pm.
Parking: There is very limited parking at the church for people with mobility issues - please let us know if you need to use this. Everyone else should park at the adjacent pay and display car park - the evening rate is £1.50 - please bring the correct change.
Dogs: A number of people have asked if dogs can be brought to concerts. To save confusion we have decided that only registered assistance dogs will be allowed.
Help to access concerts/help with transport:
Would you love to come to concerts but need help with transport or mobility issues?
We have funding from the 2020 Coop Community Fund aimed at providing transport from different parts of Wensleydale using taxis and minibuses, and if there is sufficient demand a general bus service to and from concerts. If you need help please contact us and we will see what we can do to help. If you need somebody to bring you to a concert we can help by providing a free 'carer' ticket - this is aimed at people who would not otherwise buy a ticket. To discuss your particular needs please call Carol or Liz on 01969 663026.