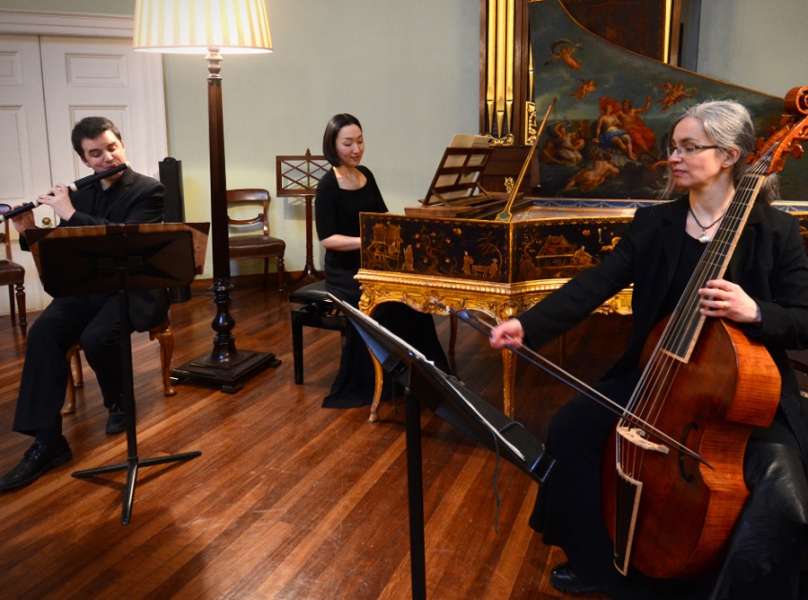 Saturday, 27th July 2024
19:30
St. Andrew's Church, Aysgarth
Programme: (TBC)
The programme is entitled "Baroque Britannia!"
Baroque Music from the British Isles by Handel, Purcell and their contemporaries
Graham O'Sullivan flute and recorder
Susanna Pell viols
Mie Hayashi harpsichord
Graham O'Sullivan
Graham read English Literature at Caius College, Cambridge, and then moved on to postgraduate studies at the Royal Academy of Music in London, where he was taught by Lisa Beznosiuk and Rachel Brown. Scholarships from the Countess of Munster Musical Trust and the Leverhulme Trust supported further studies with Barthold Kuijken at the Royal Conservatory of the Hague in Holland. Graham has given recitals on flute and recorder across the UK, as well as in continental Europe and the Far East. As an orchestral musician, he has performed and recorded as a member of the Dunedin Consort, and also with many of the country's leading period instrument ensembles, including the English Baroque Soloists, the Academy of Ancient Music, the English Concert, the Gabrieli Consort and Players, the Hanover Band, Solomon's Knot, and Ensemble Marsyas.
Susanna Pell
Susanna studied music at the University of York and then went on to study the viol with Jordi Savall at the Schola Cantorum Basiliensis in Basel. In 1987 Susanna joined the innovative medieval ensemble The Dufay Collective and a year later gave her first performance with the world-renowned viol consort Fretwork, becoming a full-time member soon afterwards. With these groups she toured extensively and made many recordings for radio and disc. With Fretwork she explored a large body of newly commissioned music by such composers as George Benjamin, Orlando Gough, Alexander Goehr, Elvis Costello, Gavin Bryars and Tan Dun, and appeared on Ryuichi Sakamoto's disc Out of Noise. Susanna can also be heard on the soundtrack of several films, including Zeferelli's Hamlet, Harry Potter and Prisoner of Azkaban, and The Da Vinci Code. She also appears on Kate Bush's 2005 release Aerial.
Now based in North Yorkshire Susanna teaches viol at the Universities of York and Durham. Having abandoned air travel in 2011 for environmental reasons she is now focusing her performing on her duo with Jacob Heringman, Pellingmans' Saraband; with the Herschel Players; and with Emma Murphy and Steven Devine in their trio, Da Camera.
Mie Hayashi
Mie was born in Kyoto, Japan. She studied at the Royal Academy of Music with Laurence Cummings and the late John Toll, and then at the Royal College of Music with Robert Woolley. With the ensemble La Sfera Musicale, Mie won top prize at the Japan Early Music Competition (Yamanishi) 2005 and honourable mention at the Bruges International Early Music Competition 2006. With La Sfera Musicale she has performed recitals across Europe and in Japan and released the CD Baroques Dialogues (WAON Records). As an orchestral musician, Mie has performed with the Royal Northern Sinfonia and the London Handel Orchestra, and was for several years principal harpsichordist with the Kyoto Philharmonic Chamber Orchestra with whom she appeared frequently as a concerto soloist. As a duo recitalist and orchestral musician, Mie has shared the concert platform with many renowned musicians, including the harpsichordists Laurence Cummings and Masaaki Suzuki, the cellist Anner Bylsma and the autists Rachel Brown and Masahiro Arita, giving acclaimed performances and radio broadcasts both in the UK, in continental Europe and the Far East. In 2016 Mie released her debut solo CD Ascents of the Soul (Omnibus Classics), and in 2019 released a disc of the works for solo harpsichord by Joseph-Nicolas-Pancrace Royer (Resonus).
List of Dates (Page event details)
Saturday, 27th July 2024

19:30
Further Information
Venue: All of our concerts are at St. Andrew's Church, Aysgarth at 7.30pm.
Parking: There is very limited parking at the church for people with mobility issues - please let us know if you need to use this. Everyone else should park at the adjacent pay and display car park - the evening rate is £1.50 - please bring the correct change.
Dogs: A number of people have asked if dogs can be brought to concerts. To save confusion we have decided that only registered assistance dogs will be allowed.
Help to access concerts/help with transport:
Would you love to come to concerts but need help with transport or mobility issues?
We have funding from the 2020 Coop Community Fund aimed at providing transport from different parts of Wensleydale using taxis and minibuses, and if there is sufficient demand a general bus service to and from concerts. If you need help please contact us and we will see what we can do to help. If you need somebody to bring you to a concert we can help by providing a free 'carer' ticket - this is aimed at people who would not otherwise buy a ticket. To discuss your particular needs please call Carol or Liz on 01969 663026.