New World String Trio
Concerts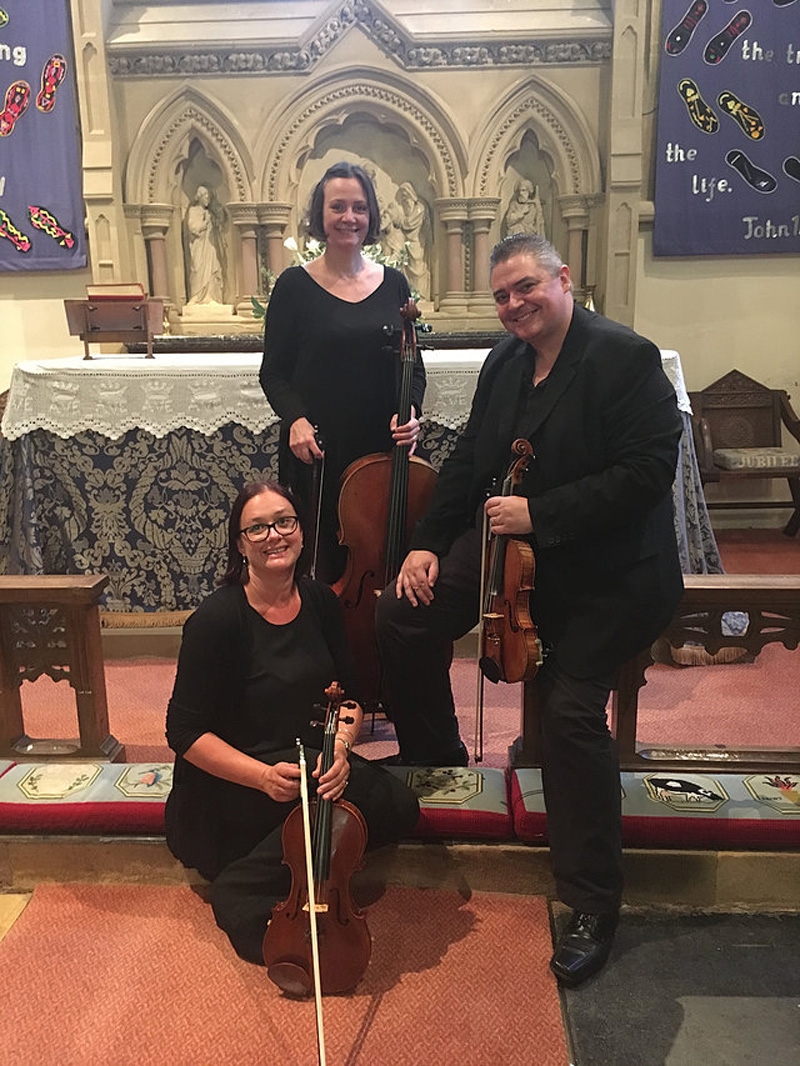 Friday, 16th September 2016
19:30
Friends Meeting House, Bainbridge
Programme:
Schubert - String Trio in B Flat Major D471
Beethoven - String Trio in G Major Opus 9, no 1
Mozart - Divertimento for String Trio in E Flat Major K563
New World String Trio
with Andrew Long (violin)
Katie Stables (viola)
Zoe Long (cello)
New World String Trio
The New World String Trio are Andrew Long (violin), Katie Stables (viola) and Zoe Long (cello) and are the principle players from the New World Ensemble.
They have performed at many music festivals and major venues with their amiable manner and ability to breathe new life into the standard repertory.
They have elicited reviews such as ''dazzling with their virtuosity'', and ''playing of clarity and precision with an alluring warmth of tone.''
Andrew Long (violin)
After leaving his position as Assistant Leader with the Royal Liverpool Philharmonic Orchestra Andy is now the Associate Leader of Opera North and the Artistic Director of the New World Ensemble (NWE).
As a soloist he has given concerto and recital performances as far afield as Norway, Germany, the Czech Republic, Belgium and Poland, where he gave a televised performance of Elgar's violin sonata.
2014 will see his release of the previously unrecorded complete works for violin and piano by Sir Edward German.
Andy is a keen exponent of contemporary music and with his NWE has commissioned, performed and recorded many new works and world premieres including Geoffrey Kimpton's violin concerto, Kevin Malone's "Eighteen Minutes", and Andrew Carter's organ concerto. He has also recorded three CDs with the New World String Quartet and a disc of string duos and trios for the ASC and Campion labels.
In spite of his busy playing schedule he has developed a distinguished teaching career. He was on the staff at Chetham's School of Music for 12 years, also teaching privately for Sir Yehudi Menuhin and at the University of Manchester.
On a lighter and more unusual note, Andy conducts, arranges for and presents the Andy Long Orchestra where he indulges his passion for Mantovani, Percy Faith, Max Jaffa and anything else from the light music and easy listening genre. His arrangements of pop classics by Abba, Elvis, the Carpenters and Queen have made his orchestra a regular feature at corporate events and at the Bridlington Spa Grand Ballroom where they have become firm favourites.
Andy plays a stunning Guarneri "del Gesu" violin of 1735 which is loaned to him by very kind permission from Ealing Strings of London and is about to embark on a project to record the entire Solo Sonatas and Partitas of J. S. Bach at a special series of "sunrise" concerts at historic churches throughout Lincolnshire.
Katie Stables (viola)
Katie was born in Ripon in 1981. When she was 8 years old she moved to Bermuda, where she started learning the violin, and at the age of 12 she won a music scholarship to Giggleswick School, learning violin with Jim and Suzanne Swainson. She was then awarded a place at Chethams School of Music in Manchester, where she switched to viola and studied with Roger Bigley (ex Lindsay String Quartet).
In 1999 Katie was awarded a place at the Royal Northern College of Music, where she continued her studies with Roger Bigley and, in 2000, she won the prestigious Cecil Aronowitz Prize for Viola. During her time at the RNCM she played in all the college orchestras, acting as principal viola in both the Symphony and Chamber Orchestras.
In 2002, she left Manchester to join the Orchestra Do Algarve in Portugal as co-principal viola. After returning from Portugal, Katie lived in Glasgow for two years, playing regularly with Scottish Ballet and the Royal Scottish National Orchestra, before returning to Ripon. She now also plays with Opera North, BBC Philharmonic, Welsh National Opera, Manchester Camerata, Royal Philharmonic Orchestra and many others. Katie is also viola in the New World String Trio which performs regularly throughout the UK.
Katie has been a member of both Vacation Chamber Orchestras and the St Cecilia Orchestra for several years, acting as principal viola on many occasions and performing concertos with both orchestras. She also plays regularly as principal viola with the Mowbray Orchestra.
Zoe Long (cello)
Zoe studied cello at the Guildhall School of Music and Drama with Stefan Popov for four years, during which time she won the Elsie Doris Moss Memorial Prize.
In the following years she trialled with the Royal Ballet Sinfonia, The BBC National Orchestra of Wales and The BBC Philharmonic where she later took up a short term contract as a full time member.
After a year in The Orchestra do Norte as Co-Principal cello she returned to England to take up a position in Manchester Camerata where she remained for fifteen years.
More recently Zoe has performed many concerts with the New World String Quartet and recorded three CDs of British Contemporary music with them.
She is now a full time member of Opera North.
List of Dates (Page event details)
Friday, 16th September 2016

19:30
Further Information
Venue: All of our concerts are at St. Andrew's Church, Aysgarth at 7.30pm.
Parking: There is very limited parking at the church for people with mobility issues - please let us know if you need to use this. Everyone else should park at the adjacent pay and display car park - the evening rate is £1.50 - please bring the correct change.
Dogs: A number of people have asked if dogs can be brought to concerts. To save confusion we have decided that only registered assistance dogs will be allowed.
Help to access concerts/help with transport:
Would you love to come to concerts but need help with transport or mobility issues?
We have funding from the 2020 Coop Community Fund aimed at providing transport from different parts of Wensleydale using taxis and minibuses, and if there is sufficient demand a general bus service to and from concerts. If you need help please contact us and we will see what we can do to help. If you need somebody to bring you to a concert we can help by providing a free 'carer' ticket - this is aimed at people who would not otherwise buy a ticket. To discuss your particular needs please call Carol or Liz on 01969 663026.